Vilnius Jesuit High School is situated in the most picturesque site of Vilnius, namely in the Old City that according to UNESCO resolution is included in the List of World Cultural Heritage. It is an independent Roman Catholic school providing secondary education of high academic standard and bringing up younger generation of Lithuania in accordance with the principles of Jesuit education.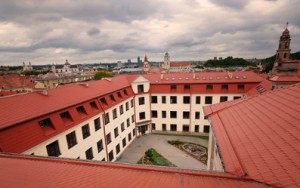 Today 716 students at the age 10 to 18 attend classes under the guidance of 81 teachers.
Vilnius Jesuit High School is an exceptional educational institution. High quality of education in terms of advanced curriculum to be presented to the learners in a way to gain maximum absorptive effect and maintenance of good relationships with the community are the most important advantages of the school.
For more informations, kick on this link and download the presentation: vilniusjesuithighschool